Cambridgeshire Fens Leader Hannam Wake Hub project launch 27th May 2017
---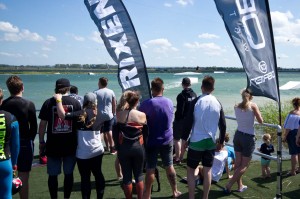 The crowd at the opening of Hannam Wake Hub
Martin Collison, chairman of the Cambridgeshire Fens Leader group, was delighted to attend the opening of the new enlarged facilities at the Hannam Wake Hub near Ely which was supported by Leader funding.
Using a farm reservoir the Wake Hub is a relatively new business which is bringing new visitors to the Fens to experience this exciting sport which involves using a wake board whilst being towed by an overhead line around a course.  More details are at:  http://www.hannamswakehub.com/
We wish the Hannam family and their team every success with the business and its future growth, it is a truly excellent new facility for the Fens.